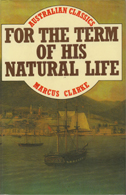 For the Term of His Natural Life Marcus Clarke 1872
Well, it didn't take long to fall off the treadmill of this reading challenge. By the end of the first month I'm now a week behind, having only just started this novel when I really should be finishing. I put it down to the weather and five days in Tasmania, and now some health problems in the family have distracted me. The one saving grace is that the next few works in the Challenge are either short stories or poems, giving me the chance to catch up.
The first question that arises with this novel is: what's with the title? Gleeson-White refers to it as His Natural Life and yet my copy (cover reproduced above) has it as For the Term of His Natural Life. Frankly, this second title is the one that I've always known the book by, and it's the one that I prefer. A check on Austlit shows the note that this book has appeared in at least 15 different versions. As well as the two titles mentioned, one edition out of the UK was published with the title Men in Chains, which sounds rather risque. With so many variations about it's little wonder that the book's title should differ from time to time.
First serialised in "The Australian Journal" in 27 monthly instalments from March 1870 to June 1872 (except for November 1871), the novel was first published in one volume, by George Robertson, in 1874 in Melbourne. A year later it appeared in London in three volumes with some "stylistic alterations and revisions from in-house editing", according to Austlit. Read into that what you will. From then on, it has been almost continually in print in Australia, and has been published in New York, by Harper and Brothers; in the UK again in 1952 from Oxford University Press; in a Chinese edition in 1985; and serialised in a number of newspapers in Australia.
The novel tells the story of Richard Devine, alias Rufus Dawes, who is falsely accused of robbery and transported as a convict from England to Australia; firstly to Macquarie Harbour, and then to Port Arthur and Norfolk Island. Clarke's work has been described as one of the most significant and most famous nineteenth-century Australian novels.
Photo of Marcus Clarke
Founders of our Literature: Marcus Clarke
The Cambridge History of English and American Literature entry
Australian Dictionary of Bibliography entry
Full-text PDF ebook
Project Gutenberg text