Recently in Libraries Category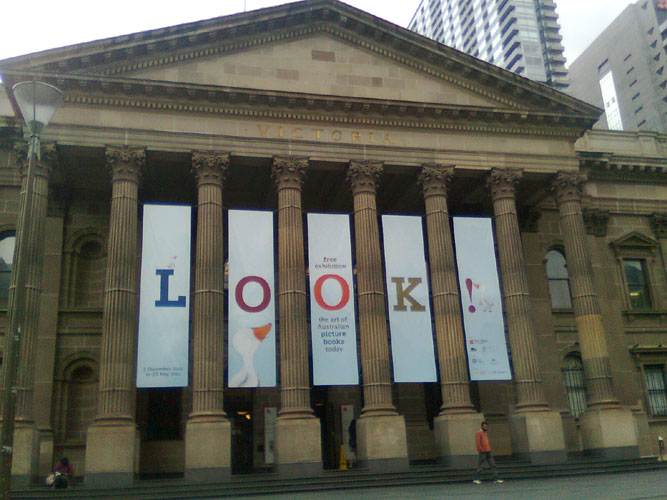 Front entrance to the State Library of Victoria showing the banners for
"Look! The Art of Australian Picture Books"
exhibition. This runs until 29th May 2011.
By

Perry Middlemiss

on June 5, 2009 8:45 AM
|
4 Comments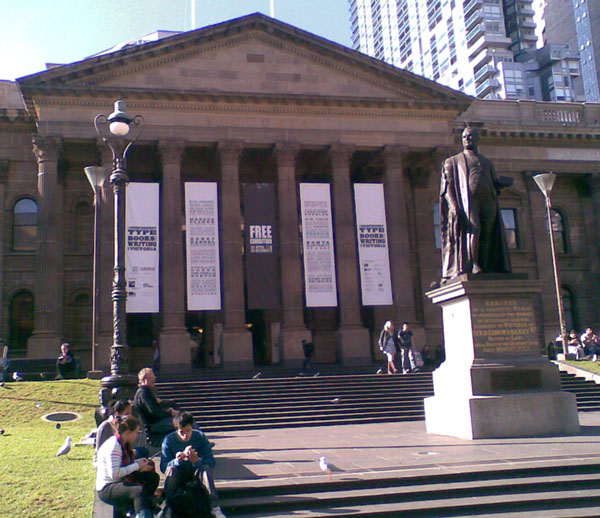 Forecourt of State Library of Victoria showing promotion for "Independent Type: Books and Writing in Victoria" exhibition

Currently Reading
How it Feels
by Brendan Cowell
A debut novel from a multi-talented author/actor/director. A coming-of-age novel which might well be semi-autobiographical.
Monster Blood Tattoo: Factotum
by D. M. Cornish
The third book in the MBT series. Will we finally find out who Rossamund really is? And will we be sad to leave this fully-realised fantasy world? I suspect the answer will be "yes" to both.
Recently Read
Rendezvous at Kamakura Inn
by Marshall Browne
Browne's first novel in a new series, this time featuring a Japanese detective, Inspector Aoki. This novel finds the inspector investigating an old murder in a snowed-in remote Japanese retreat.
The City & The City
by China Miéville
Miéville's Hugo Award winning novel of two cities inhabiting the same physical location. A murder mystery with hints of classic sf/fantasy memes, from Dick to Borges, but in a European setting.
Gone Tomorrow
by Lee Child
The 13th Jack Reacher novel. Suicide bombers on the New York subway and international terrorism mixed with hard-boiled action makes for an interesting brew.
The Blade Itself
by Joe Abercrombie
Heroic fantasy in the modern style. A fantasy that is laced through with noirish elements, and excellent characterisations. First book of The First Law trilogy.
Where Have You Been?
by Wendy James
What happens when a sister returns after being missing, presumed dead, for twenty years? James enhances her reputation as one of Australia's rising literary novelists.
Wyatt
by Garry Disher
Disher's anti-hero is back after an absence of ten years with a gritty, fast, noirish struggle for survival. All the best aspects of Disher's work are on display here.
Leviathan
by Scott Westerfeld
A Young Adult steampunk novel set at the start of an alternate history First World War. Fast-paced, intriguing and totally captivating.
Do Androids Dream of Electric Sheep?
by Philip K. Dick
Dick's novel of the near future when the difference between human and android is barely discernible. One of the great all-time sf titles.
American Journeys
by Don Watson
Watson journeys into the heart of America, by train and car. There he discovers the best, and the worst, of humanity and society.
Ghostlines
by Nick Gadd
2009 Best First Novel at the Ned Kelly Awards. Murder in the art world involving political intrigue and business corruption in Melbourne.
In It to Win It: The Australian Cricket Supremacy
by Peter Roebuck
Roebuck's examination of the rise of Australian cricket post-1987. Some flashes of wonderful insight interspersed with long documentary reportage.
Things We Didn't See Coming
by Steven Amsterdam
2009 Age Book of the Year. A post-apocalyptic vision of a country (Australia?) in decline, as seen through the eyes of one man. Told in a series of semi-connected short stories.
Moneyball: The Art of Winning an Unfair Game
by Michael Lewis
Lewis's intriguing look into what makes a good baseball team. It's essentially about sport but should also be read from a people/project management perspective. Fascinating stuff.
Against the Machine: Being Human in the Age of the Electronic Mob
by Lee Siegel
Reads like a polemic against the dangers of the internet, but with little in the way of guidance towards the second part of the title.
Blood Moon
by Garry Disher
The fifth of Garry Disher's Challis and Destry series set on the Mornington peninsular. A brutal bashing turns political. But is it related to the murder of a local environment protection officer?
Replay
by Ken Grimwood
World Fantasy Award winner from 1988. Grimwood's intriguing novel about a man who relives his life over and over. A modern fantasy classic which most readers would not recognise as such.
The Tango Briefing
by Adam Hall
The fifth of Adam Hall's Quiller series from 1973 and probably about his best. More physical than McCarry.
The Tears of Autumn
by Charles McCarry
McCarry's masterful spy thriller from 1974. Paul Christopher investigates the asssassination of John F Kennedy.
Categories
A is for...
What I Read This Month
This weblog is copyright © Perry Middlemiss 2004-2010. All rights revert to original contributors.