Australian Bookcovers #319 - The Turning by Tim Winton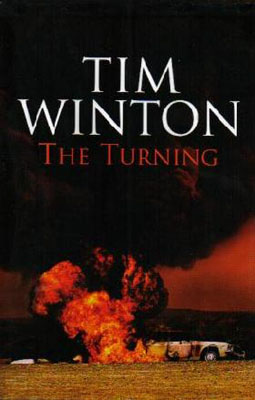 The Turning
by Tim Winton, 2004
Pan Macmillan edition 2004
No TrackBacks
TrackBack URL: http://www.middlemiss.org/cgi-bin/movabletype/mt-tb.cgi/1973
Currently Reading
A Feast for Crows
by George R.R. Martin
Book Four for Martin's huge series and the canvas and cast of characters continues to expand. This tells half a story, with the other half in Book Five.
River of Shadows
by Valerio Varesi
Shortlisted for the CWA International Dagger award. The translation is a bit clunky and it's rather a slow burn to a so-so ending.
Recently Read
The Quiet American
by Graham Greene
Greene's famous novel about the French War in Vietnam in the 1950s and the beginnings of American involvement. Such power behind such a delicate touch.
The Marvellous Boy
by Peter Corris
The third Cliff Hardy novel from 1982. Corris writes in the classic Private Investigator tradition, mixing a complicated plot with memorable characters and solid locale descriptions. Terrific stuff.
A Storm of Swords
by George R.R. Martin
Book Three in Martin's "A Song of Ice and Fire" saga. Many, many story-threads come to a head and then open back out again to maintain a stunning series.
Killing Floor
by Lee Child
The first Jack Reacher novel, in which he investigates the death of his brother and a major crime ring in a small country town. A little rough around the edges but you can see where the later novels sprung from.
The Eerie Silence: Are we Alone in the Universe?
by Paul Davies
Davies contemplates the subtitle, examining all the evidence and possibilities.
The Diggers Rest Hotel
by Geoffrey McGeachin
The 2011 Ned Kelly Award winner - the first Charlie Berlin novel. A Melbourne detective investigates a series of robberies and a murder in Albury-Wondonga in the 1950s.
A Clash of Kings
by George R.R. Martin
The second volume of Martin's monumental
Song of Fire and Ice
sequence. Not as good as the first volume and acts more as a stage-setting set of exercises, but you can tell it's building up to something big.
The Sense of an Ending
by Julian Barnes
The 2011 Man Booker Prize winner. Not Barnes's best book but highly readable and echoes some of his very early work.
Hook's Mountain
by James McQueen
McQueen's sadly neglected novel from the early eighties. A WW II returned serviceman dives headfirst into environmental confrontation. This may be Australia's first "eco-terrorism" novel.
The Troubled Man
by Henning Menkell
Menkell's last "Kurt Wallander" novel. As the detective investigates the disappearance of his daughter's future parents-in-law he encounters dark clouds everywhere, including his own life, past and future.
Shatter
by Michael Robotham
This 2008 Ned Kelly Award winner is an excellent thriller featuring a revenge-seeking ex-army killer, and a physically and mentally scarred psychologist who races to avoid being the next victim.
Odd and the Frost Giants
by Neil Gaiman
Gaiman's coming-of-age story about a crippled boy and his attempt to save Asgard from the Frost Giants.
The Goldilocks Enigma
by Paul Davies
Davies's investigation into why the universe is like it is - "weak", "strong" and "final" anthropic theories all get a going over.
The Devil and Sherlock Holmes
by David Grann
A collection of Grann's journalism featuring tales of murder, madness and obsession. Varied but generally fairly interesting, and sometimes just plain bizarre.
Outliers
by Malcolm Gladwell
Gladwell's investigation of why some people are more successful than others. Interesting but not up to his previous work.
The Impossible Dead
by Ian Rankin
Rankin's second novel featuring his new detective Malcolm Fox of The Complaints. There are echoes of Rebus here, but it still has some way to go to reach those heights.
This weblog is copyright © Perry Middlemiss 2004-2012. All rights revert to original contributors.