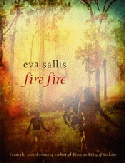 Reviews of Fire Fire by Eva Sallis
Andrew Reimer, in "The Age" finds that "Fire Fire is an unusual and unsettling book. It is not always possible to work out exactly where its ethical and moral emphases fall - and I mean that as a compliment" and "the novel's construction is wayward, and that (once more) is to be welcomed in a cultural climate where idiosyncrasy does not seem to be highly valued." Which I take to mean that he's a bit ambivalent about the book - liking some parts and considering others "somewhat commonplace, even a tad too tidy".
In the "Adelaide Review", Gillian Dooley compares the novel to Ethel Turner's Classic Seven Little Australians; not directly comparing the two books all the way down the line but deciding "While we leave Ethel Turner's little world with a happy tear and a sigh, Eva Sallis's inspires confusion and disturbance." Which is not to be considered a bad thing, merely the way it is. Doley concludes that "Fire Fire is a haunting book - not hauntingly beautiful, but full of foetid, morbid and powerful images which will stay, perhaps uncomfortably, in the mind."
Sally Murphy on the AussieReviews website, states that: "This is a gripping and compelling tale, spun with layers of language and of meaning."
In addition to these reviews, you can read the transcript of a discussion between Eva Sallis and Romana Kaval from the "Books and Writing" program on ABC Radio National.