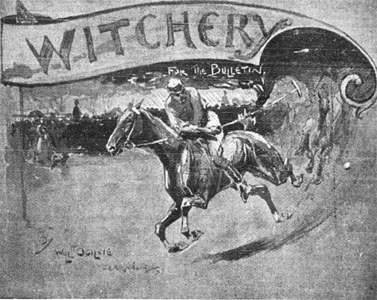 Rich bay with a star on the face
And white on the off hind-foot,
With a beautiful temper and plenty of pace,
And keen as a hawk to boot,
With a shoulder as clean as a stag's,
And loins that would carry a ton,
There's nothing so kindly goes down to the flags
As Witchery -- fourteen-one !
She's a wonder at getting away,
And, give her a length on the grass,
They can bid a good-day to the swift little bay,
For there's nothing can catch her or pass;
She fights for her head to the ball,
For the ponies are fond of the fun,
And, oh! but she loves to be leading them all,
Does Witchery --- fourteen-one!
Do I touch her at times with the spur?
It is little my beauty will care,
And the blood on her mouth does not matter to her
She has plenty of "blood" and to spare!
And the ladies will pet her and praise
When the last merry quarter is done,
And she likes it -- I don't care what anyone says --
Does Witchery --- fourteen-one!
A barbarous sport? Well, I yield!
But if this be a crime, let us sin;
For the goal flags are flying, the crowd's on the field,
And the ponies are mad to begin.
Savages? Yes, if you like!
But the musical mallet's begun
And she's biting the bit to get down for a strike
Is Witchery -- fourteen-one!
Girth up, and ride out to the fray!
For our foemen in crimson and white,
They are demons to play and they mean it to-day;
We shall have to hit hard and sit tight.
And we've got to take risks of our own
When the coin has been spoken and spun,
And the hard knocks, remember, are not all alone
For Witchery --- fourteen-one!

First published
in
The Bulletin
, 13 May 1899
Note:
the poem was originally published with the illustration shown here.
Author reference sites:
Austlit
,
Australian Dictionary of Biography
See
also
.