Seems that the major items of interest, on the Australian literature scene, over the past two weeks has been the number of awards that have either announced their winners or short/long lists.
One that I was involved with was the Hugo Awards (for excellence in the fields of science fiction and fantasy for 2009) which were announced at Aussiecon 4 on September 5th. The major Australian interest was Shaun Tan's win for Best Professional Artist, which was met with wild applause on the night. You can read the full list of winners here, and even have a look at the voting and nominating statistics.
The Hugo Award itself looked like this: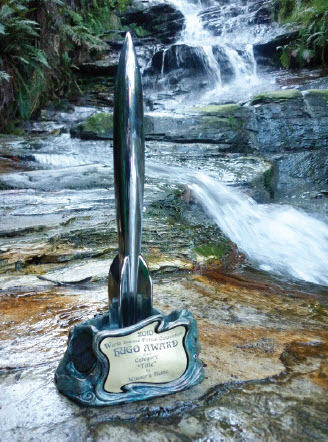 The rocket is standard from year to year but the base - this year designed and built by Nick Stathopoulos with input from Lewis Morley and Grant Gittus - is left to the convention committee to organise.
Details of other awards will follow over the next few days. I didn't think you would appreciate getting them all in one big lump.