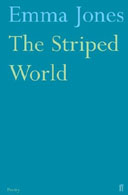 Emma Jones's first poetry collection, The Striped World, won the Best Poetry Collection Award at the Queensand Premier's Literary Awards announced in September, and has since gone on to win the Felix Dennis award for debut poetry in the UK. The volume has now also been shortlisted for the John Llewellyn Rhys Prize (which "rewards the best work of literature (fiction, non-fiction, poetry, drama) by a UK or Commonwealth writer aged 35 or under") alongside such writers as Aravind Adiga and Chimamanda Ngozi Adichie. The winner of this award will be announced later today, UK time.

The poet is currently writer-in-residence at the Wordsworth Trust at Grasmere in the Lake District, and spoke to Peter Wilson for "The Australian" newspaper:
Sitting in her small cottage, Jones, 32, tries to explain the origins of her writing and casts her mind 17,000km and 25 years away to a house in Concord in Sydney's inner west. "We moved into a house when I was about seven and my parents found a crate of books that I guess the people had left up in the loft. They just laid all the books out saying 'Do you want any of these, because most of them were good'.

"There was one book that I still have. It is my most precious book. It was a 1950s kids' retelling of Greek myths and I loved this book. I was kind of fixated with it and I think that was what really started me, because I got really interested in mythology and things like that."

Softly spoken and with a slightly vulnerable manner for a 32-year-old, Jones is a touch nervous about giving her first lengthy interview because she fears it may be too early in her career to be receiving more attention than other poets.