Reviews of Ransom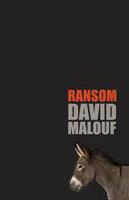 Alberto Manguel in "The Australian": "Ransom, his first novel in 10 years, it must be said at once, is (however abused the word) a masterpiece, exquisitely written, pithy and wise and overwhelmingly moving, constructed with invisible, successful craft that leaves the reader wondering how in the world it has been done... All of Malouf's books might bear the title of his early masterpiece, An Imaginary Life: in each, an individual (the poet Ovid, Frank Harland in Harland's Half-Acre, Jim Saddler in Fly Away Peter, Gemmy Fairley in Remembering Babylon) weaves together, from the bewildering tangle of the world, the strands of a self-portrait through which the reader can make sense of our inherited chaos. Every life is imaginary, in that each one of us must imagine it in order to live it out fully."
Peter Rose in "Australian Book Review": "Ever since [An Imaginary Life], Malouf's characters, mostly men, often young, have been drawn to 'the very edge of things'. Not for him the promiscuous alliances or metropolitan mires of an Iris Murdoch or Philip Roth or Alan Hollinghurst. So often, paired or alone, his characters slip away from the centre, 'relegated to the region of silence'. The effect, in Malouf's superb prose, is usually transformative. To paraphrase Ovid, these exiles will be separated from themselves and yet be alive."
"Boomerang Books" weblog: "If someone has a strong interest in classic literature, history, or is even drawn to fantasy novels (often built up from myth and history, and notions of honour) they will probably treasure this, as will anyone who enjoys literature on a sentence-level. Malouf's rendering of Ancient Greece is gorgeous, fantastical, and yet earthly, humble, and relatable."
The book was also discussed on ABC Television's "First Tuesday Book Club".
Interviews
Malouf was interviewed by Ramona Koval on ABC Radio National's "Book Show", and, while the audio is no longer available, the website does carry a transcript of the interview.
Rosemary Sorenson discovers where Malouf's love of Homer originated, for "The Australian".
Other
Malouf offered his thoughts on the 2009 Man Booker Prize, prior to the announcement of the winner, finding he couldn't choose between the Hilary Mantel's Wolf Hall and J.M. Coetzee's Summertime.
The Brisbane-based Expressions Dance Company used Malouf's memoir 12 Edmonstone Street as an aid for remembering childhood experiences.
The author was recently at the Sprung writers festival in Albany, Western Australia.