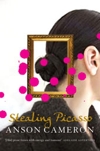 Anson Cameron's fifth novel, Stealing Picasso, is based on the unsolved theft, and later return, of Picassso's Weeping Woman from the National Gallery of Victoria back in 1986. It's a most peculiar case and one ripe for a speculative literary novel. The author was interviewed by Catherine Keenan for "The Age".
There are plenty of wild, invented details in Cameron's funny, occasionally stinging work. There's a frustrated art teacher called Turton Pym, gnashing his teeth that his contemporaries Brett Whiteley and John Olsen have become famous while he can't get a single canvas finished. There's a benighted soul who loves Michael Jackson so much he gets surgery to look like him, then finds his world tipped upside down when his idol is charged with molesting kids.

And there are enough double and triple-crosses to explain why, after all these years, no one has discovered who the Australian Cultural Terrorists were and why they did what they did.

Yet some of the most outlandish-seeming details are true. Such as the fact the thieves left a sign on the wall saying the painting had been removed to the ACT. Staff assumed this meant the National Gallery in Canberra - it was nearly two days before anyone realised their $1.6 million investment had been nicked.