Literary Gatherings #5 - Stephens, Rudd, Lindsay, Quinn and Lindsay
By

Perry Middlemiss

on November 23, 2006 8:52 AM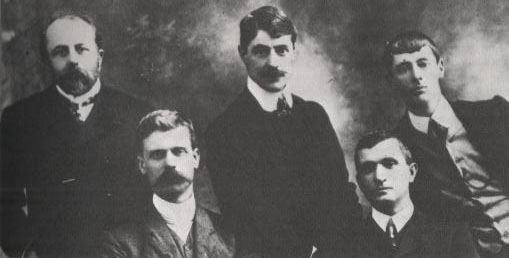 From left: A.G. Stephens, Steele Rudd, Lionel Lindsay, Roderic Quinn and Norman
Lindsay
Currently Reading
Blind Eye
by Stuart MacBride
Macbride's fifth DS McRae novel - hard to see it getting more gruesome than this.
State of Emergency
by Sam Fisher
Cinematic, high-tech, futuristic rescue fiction. This might have started its own genre.
Recently Read
Jasper Jones
by Craig Silvey
A coming-of-age novel set in a small WA mining town in the 1960s. Ticks all the relevant boxes.
Gentlemen of the Road
by Michael Chabon
Chabon's homage to the adventure novel. Reminiscent of Moorcock and Leiber.
Headlong
by Susan Varga
When is life still worth living, or is it better to die with dignity?
The Pages
by Murray Bail
Bail's first novel since
Eucalyptus
, about an Outback genius philosopher - or is he? [Shortlisted for the 2009 Miles Franklin Award.]
This weblog is copyright © Perry Middlemiss 2004-2009. All rights revert to original contributors.