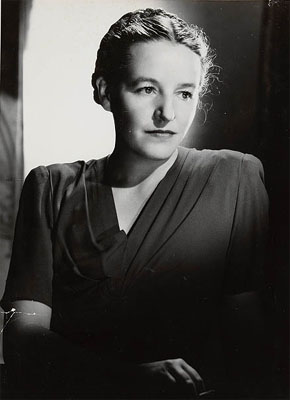 Dymphna Cusack (1902 - 1981)
Angus McFarland stepped out of the private hire car at the main entrance of the Hotel South Pacific and snapped a brusque reply to the commissionaire's "Good evening, sir." The chauffeur pocketed his tip, touched his cap, and the car moved smoothly down Macquarie Street.
Angus was hot and uncomfortable. The unseasonable heat of the spring afternoon beat up from the pavement, and across the street the glare from the setting sun blazed back from the fan-shaped transoms of Parliament House. He noticed with rising irritation that the sky was angry with clouded fire, and flaming mares' tales rioted in the upper air. That would mean another hot day tomorrow - probably a westerly, judging by the sky.
What a fool he had been to let his sister persuade him to go to Wahroonga on a day like this, even if Ian and his family were down from the country on one of their infrequent visits. It had been damned boring as well as uncomfortable -- nothing but family business and gossip. Serve him right for going; he had nothing whatever in common with Virginia or Ian, and he ought to have known better. He should have spent the afternoon up at the Continental Gymnasium having his usual Friday Turkish bath and massage to get himself in form for his evening with Deborah. A man wanted to feel at his best with a girl as vibrant and beautiful as she was -- particularly when he was seventeen years older.
From Come in Spinner by Dymphna Cusack and Florence James