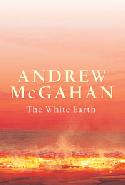 Reviews of The White Earth by Andrew McGahan
This book recently won the regional Commonwealth Writers' Prize for SE Asian and South Pacific. As good a reason as any to feature it. The novel is set in 1992, at the time of the Mabo decision: the result of a High Court of Australia case brought by Eddie Mabo refuting the concept that Australia was terra nullius (ie unoccupied) when the British First Fleet landed in 1788. It tells the story of William and his Uncle John, a member of White Australia, who William goes to live with after his father dies.
Sally Murphy, at the Aussiereviews.com website, finds that this is a novel "with many shocks, gripping the reader with its sheer awfulness. Those who have read Dickens will draw parallels between Uncle John and Miss Havisham and be aware of the Dickensian feel to both the progression of the tale and the overall tone...That said, this is a very Australian novel, with a very Australian setting and cast...Shattering." I think she is using "awfulness" here in the sense of "disturbing" rather than "bad". At least I hope so.
"The Age" review by Aviva Tuffield calls for McGahan's inclusion on the Miles Franklin Award shortlist for 2005. She is impressed with the book:
The White Earth is an ambitious and multilayered novel that ranges across the 150-year history of white settlement on the Darling Downs. It touches on such recent political issues as the passage of native title legislation, the "history wars" and the growing alienation and resentment of rural white Australia - sentiments that, as we now know, provided a natural constituency for One Nation. But The White Earth also has all the trappings of a classic supernatural tale, and McGahan seamlessly blends the factual elements with the preternatural dimensions - the ghosts of black and white that haunt the landscape.
Lindy, of Abbey Books, is even more explicit: "Having read about 250 books this year, I'd have to say
The White Earth
is my absolute pick of them all. A gripping storyline, believable characters, skillful narrative and brilliant style - and every single person I've given this to read has been reluctant to put it down once they've started!"
As well as the Commonwealth Writers' Prize already mentioned, The White Earth won the 2004 "Courier-Mail" Book of the Year award, and the 2004 "Age" Book of the Year Fiction award. Maybe the last word can be given to a posting on the "Books I Have Read Lately" notice-board on the www.ezboard.com website: "I can recommend The White Earth by Andrew McGahan, author of Praise, 1988 and Last Drinks. Actually I would read this guy's shopping lists."