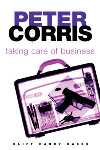 Reviews of Taking Care of Business by Peter Corris
This is a collection of short stories featuring Corris's Sydney-based PI Cliff Hardy. "The Age" included this book in its Summer Reading excerpt series but didn't, unfortunately, include this excerpt on its website. However they do state that "It's arguable that Peter Corris was responsible for the renaissance of Australian crime writing. After all, who was there to walk down the mean streets of Melbourne and Sydney before he introduced us to Cliff Hardy all those years ago?" More than arguable, in my opinion.
Robin Wallace-Crabbe finds (you'll need to scroll down a bit) that "With these Cliff Hardy pieces, produced over the past five years or so, the problem of confronting competing atmospheres and settings is overcome by the feel of what Frank Moorhouse alled 'discontinuous narrative' (or something)." Which is more than a little vague. But he reedeems himself (read: 'makes himself a bit more understandable') at the end: "Relish these over breakfast or while saving charred meat from summer flies." Which should not be read as a recipe merely an indication that short stories fit the disjointed Australian summer lifestyle. I think.
Mary Martin Books notes (and you have to scroll nearly to the bottom of this long document) that: "The collection is business-centred (two of the pieces appeared in THE AUSTRALIAN FINANCIAL REVIEW) but all are packed with thrills and intrigue, as befits any work involving that intrepid PI, Cliff Hardy." And they decide that: "Each of the stories is a little gem."