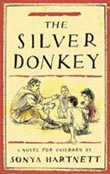 Reviews of The Silver Donkey by Sonya Hartnett:
- Meg Sorensen, in "The Sydney Morning Herald": "An elegantly published little hardback for children, The Silver Donkey is both a tribute to Hartnett's growing international status and a nostalgic nod to a time when fun and mystery weren't pre-packaged, branded and gauche. Read it to your children for its wonderfully controlled prose and beautifully composed story but be sure to give them lots of tickles along the way."
- Peter Craven, in "The Age": "The Silver Donkey is a gorgeous jewel of a book that comes in the plainest wrapping. It is a deliberately old-fashioned story. It is not about family atrocity and dysfunction. It is about being casually brave in order to help a gentle stranger. It is also, in its shadows, about a man who has suffered in the teeth of terrible things and is willing to commit what society thinks is a crime in order to be with the brother he loves."
- "The Bulletin" states that "Hartnett's book is a triumph of tact and restraint."
The Silver Donkey is also reviewed in "The Australian Book Review" No. 267, but the review is not available on the website.
And Sonya Hartnett writes about what it means to be a writer of young adult fiction in Australia for "The Bulletin".