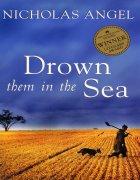 Reviews of Drown Them in the Sea by Nicholas Angel
(This novel was co-winner of the 2003 Australian/Vogel Award.)
Sally Murphy, in Aussiereviews.com states that: "Drown Them in the Sea is a very Australian story about life on the land and the ever-present struggle against adversary. It is about a man's love of his land and his family and also, very strongly, about mateship."
"GoodReading Magazines: "Given the recent drought of shorter novels, Drown Them in the Sea comes as a breath of ocean air itself."
Thuy On, in "The Age", finds that: "Drown Them in the Sea is a graceful fusion of brute realism and spare, evocative prose. It captures the essence of rural Australia with Akubra-wearing Millvan as the archetypical farmer: heroic, laconic and indefatigable...in Angel's capable hands Drown Them in the Sea is a compelling narrative of admirable characters against an unforgiving backdrop. It has a maturity that belies the author's 25 years."